Workshop
on
04/16/2012
at
13:57
Hello guys, i want to post  the process to make  a Egregori page.
Once I read the scrip I do a very quick layou, in a blue or red colo.
Hola que tal?,Quiero iniciar esta seccion con el proceso de la creación de una página.
Lo primero que hago despues de ver el guión es un boceto rapido del acomodo de las viñetas en la página.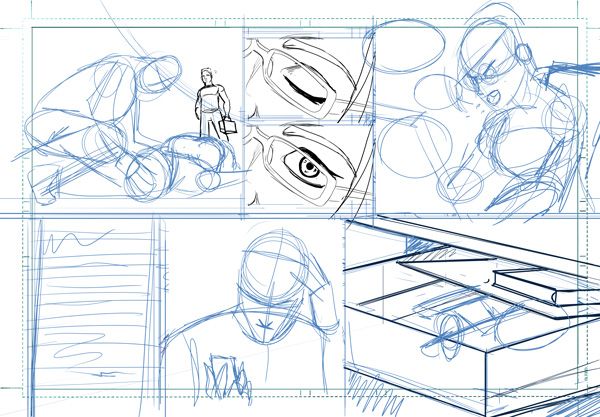 On top the layout layer I star a new layer to work on the sketch.
Sobre la capa existente hago una nueva para  dibujare el boceto con mayor definición.
Then I hide the layout layer I get rid of the extra lines and digital inking the page in a new layer.
Oculto los layes que ya no voy a usar  y en una capa nueva entinto digitalmente utilizando las líneas que más me gusten.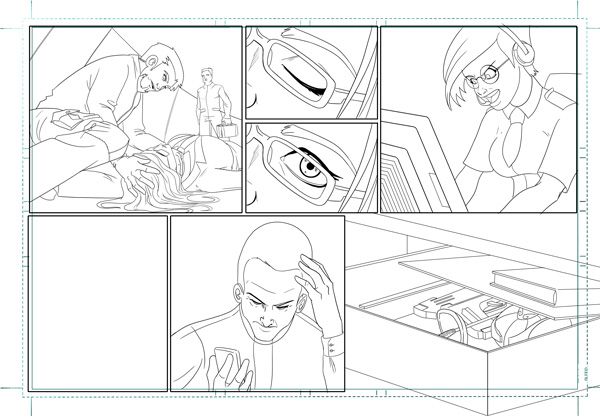 Finally I choose  color  palette according to the environment I want to give to the each panel, and apply it in a new layer under the ink layer.
Finalmente elijo la paleta de color para cada viñeta en una capa nueva  que esta debajo de la capa del entintado.
This is the final color page, after this I have to add the balloons. You can watch the final page in here: http://frandel.com/egregori/egregori-16/
Así se ve la página a color, despues de esto aún falta agregar los globos de textos. Para ver la página finalizada : http://frandel.com/egregori/egregori-16/